The GTC4 Lusso American Premiere
The new four-seater Ferrari presented in Los Angeles
The arrival of the new Ferrari GTC4 Lusso has changed the sporty four-seater Grand Tourer forever.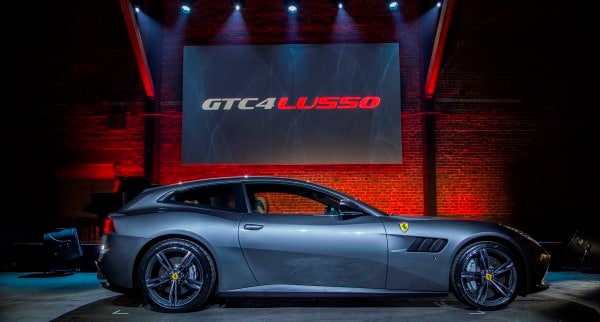 Downtown Los Angeles, CA – On Wednesday, August 17th 2016, the new Ferrari GTC4 Lusso did its debut in North America.
To welcome the newest four-seater from Maranello, 'The Red Door' led to Ferrari's intimate gathering of guests for the U.S. reveal of the GTC4Lusso.The newest four-seater Ferrari GT defied convention with its sporty elegance and luxurious comfort.
Presented within an exposition of performances from a pair of electric violinists, dancers and a contortionist, the GTC4Lusso was the undeniable star of the elegant evening with its breathtaking 12-cylinderd soundtrack and powerful performance.
The new prancing horse's new 12-cylinder: a "whole new world" of experience
Innovation, versatility, performance, sportiness and elegance have all been given an entirely new meaning thanks to the way they merge seamlessly in the GTC4 Lusso. Powerful yer sophisticated, Ferrari's new 12-cylinder really does make every journey a radically different experience. Whether being driven solo or with all four seats occupied, the latest addition to the Ferrari range puts people at the center of a new world.