Rolex 24 At Daytona: Ferrari Hospitality Registration Now Available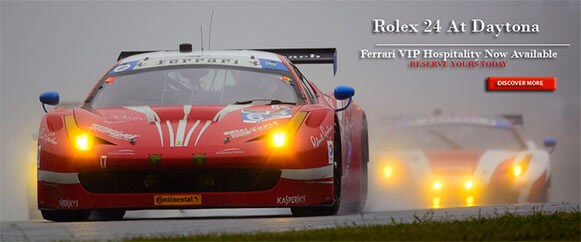 Rolex 24 At Daytona: Ferrari Hospitality Registration Now Available
21 Dec 2015 in Ferrari Challenge, Tudor United SportsCar

Join other Ferraristi in Ferrari's Hospitality Suite to start the next chapter in Ferrari's GT racing history as this coming January 29-31, the all-new Ferrari 488 GT, successor to the competition-winning 458 GT, will make its competitive debut on the famed banks of Daytona International Speedway for the 24 Hours at Daytona.
Enjoy it all with a Ferrari Hospitality Package — the best way to experience Daytona weekend
A track and suite entry pass, valid from Friday, January 29 through Sunday, January 31– open for the entire of the 24-hour race
Premium closed-circuit TV viewing of the track from Ferrari's Turn 1 hospitality suite; an area to relax, dine and enjoy the race with your fellow Ferraristi
A casual Saturday night gourmet cookout and cocktail reception
Access to Ferrari Challenge and IMSA United Sports Car Championship paddocks throughout the weekend
Continental breakfast on Friday and Saturday, brunch on Sunday
Ferrari GT team experience that includes:
* Technical briefing by Ferrari team engineers
* Meet and greet with Ferrari team drivers
* Exclusive Ferrari pit tours throughout the race
Hospitality & Lapping Packing:
If your need for speed leaves you wanting more, add a Lapping Package to your hospitality experience. This exclusive opportunity will enable you to take your Ferrari on track for lapping sessions on Friday evening. It's a great chance to experience the thrills of Daytona while enjoying the ultimate Ferrari experience.
Test the 488 GTB on Daytona's Banks
Owners who purchase a Ferrari Hospitality Suite Package will be eligible to test drive* the new 488 GTB on track Friday evening from 5:00-8:00pm. During your Hospitality Package booking, please indicate your preference for a 488 GTB test drive.