Our Racing Team, Scuderia Corsa, Repeat as IMSA Champions with Petit Le Mans Podium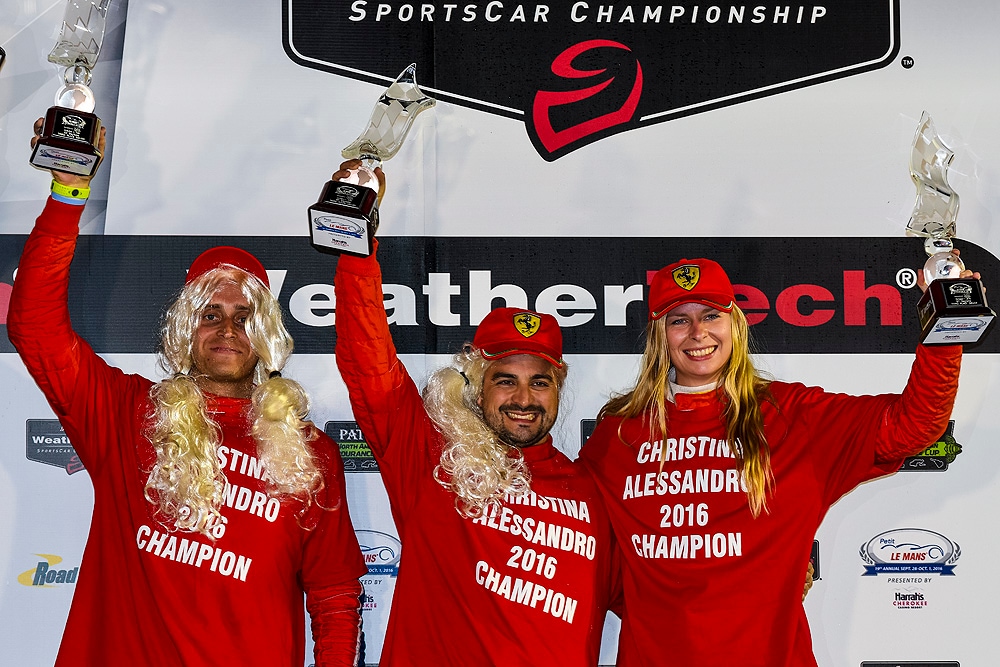 October 2, 2016 (Atlanta, Ga.) – A season's worth of hard-fought competition has ended with Scuderia Corsa repeating as the GT-Daytona IMSA SportsCar Champions while standing on the podium at Petit Le Mans – scoring their seventh podium finish of the year.

Christina Nielsen made history yesterday to become the first female to win a major professional North American sports car championship. With two victories and five additional podium results, she and Balzan finished the season with 330 points, 27 ahead of the championship runner-up. This is Nielsen's first championship, Balzan's second, and the third in four seasons for Scuderia Corsa.
Nielsen started the race and, despite some contact and an extremely fast race pace, Nielsen logged her three hours and eight minutes in back-to-back stints to earn the championship before handing the car over to Jeff Segal.

"I was pretty tired when I got out of the car, but I felt great," said Nielsen. "To be honest, it was a bit mentally draining to be in the car longer than a regular IMSA race distance. The team did a great job of keeping me calm, taking to me, keeping me updated and giving me feedback."

"Everyone has enjoyed the hard work that we have put in all year and to be champions is just amazing! And there are no other people than Alessandro Balzan, Jeff Segal and
Scuderia Corsa that I would like to share it with. Time flies with these guys and I really enjoy racing the Ferrari488 GT3. Ferrari gave us a great car to race with!"

Balzan and Segal deftly rode the crests and drops of the roller coaster running order of the GTD class over the last seven hours of the race. They each drove the N.63 Ferrari 488 GT3 in first place. A flat tire just before the last hour mark forced Balzan to eight place at the last hour mark, but he powered through his final stint allowing him and Scuderia Corsa to score third place.

For Balzan, his second title with Scuderia Corsa has a very different feel than his first which came in the 2013 GRAND-AM season.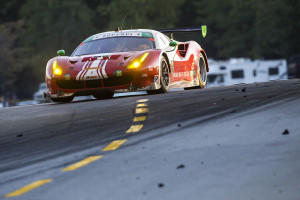 "There have been many firsts for me this season," said Balzan. "I won my first endurance race at Sebring, and then my second one at Watkins Glen. And we did it together – Christina and I were together all season, as opposed to 2013 when I had different teammates and didn't have the opportunity to share the championship. I feel really lucky to drive with these guys at Scuderia Corsa, to drive the 488 GT3 and to have Christina as a teammate. She did an amazing job all year, and always gave us the car in perfect condition and in a great position!"

"This day belongs to Christina and Alessandro," said Giacomo Mattioli, Scuderia Corsa team owner. "They did a fantastic job the entire year. Even today the race was quite difficult, we got hit a couple of times but everybody kept their focus and we took home a
great podium. Jeff Segal is as close to a 'sure thing' as you can get, once again he delivered a strong performance for Scuderia Corsa. To be able to win three Championships in four seasons required very talented, dedicated and hard working individuals, such as Managing Director Roberto Amorosi. Under his supervision, the crew did an amazing job all season."

The team's second entry in Petit Le Mans, the no. 68 Scuderia Corsa Ferrari 488 GTE driven by Andrea Bertolini, Alessandro Pier Guidi and Daniel Serra ran competitively in the top-five of the GT-Le Mans class until early retirement in the closing stages of the race caused by a fire in the pits.
Nielsen, Balzan, and Mattioli will receive their championship hardware Monday night at the IMSA Night of Champions at Chateu Elan in Atlanta, Georgia.

About Scuderia Corsa
2016 IMSA GTD Champion, 2016 24Hours of Le Mans GTE-Am winner, 2016 6H of Watkins Glen Winner, 2016 12H of Sebring Winner, 2016 Pirelli World Challenge GTA Champion, 2015 24Hours of Le Mans Podium, 2015 IMSA GTD and 2013 Grand-AM GT championship-winning team Scuderia Corsa was founded in 2013 by Giacomo Mattioli and Art Zafiropoulo. Follow Scuderia Corsa on Twitter @Scuderia_Corsa , on Facebook at Scuderia Corsa , Instagram at #Scuderiacorsaferrari and ScuderiaCorsa.com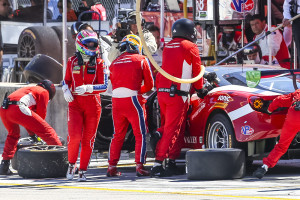 Team Sponsors:
Ferrari Beverly Hills / Los Angeles / Silicon Valley / South Bay – North America's premiere Ferrari dealership group specializing in new and pre-owned sales, Classiche designation work, collision repair and factory trained service and original parts. Pacific Western Bank is a Los Angeles-based commercial bank with over $21 billion in assets. Pacific Western provides commercial banking services, including real estate, construction, and commercial loans, to small and medium-sized businesses through 80 full-service branches throughout the state of California. Its CapitalSource Division delivers cash flow, asset-based, equipment and real estate loans, as well as treasury management services to middle market businesses on a national basis. The Square 1 Bank Division, headquartered at Pacific Western's Durham, North Carolina branch, offers a comprehensive suite of financial services focused on entrepreneurial businesses and their venture capital and private equity investors, with offices located in all key innovative hubs across the United States. Pacific Western Bank is a wholly-owned subsidiary of PacWest Bancorp (NASDAQ: PACW). Ferrari Palm Beach – Providing the exclusive Palm Beach market with a premium inventory of new and pre-owned Ferraris, state-of-the-art facilities and technicians for expert maintenance and repair. Wide World Ferrari – Located in Spring Valley, New York, offering Ferrari customers a premium selection of new and pre-owned Ferraris, expert authorized service and exclusive Ferrari certified body repair. Zonin USA –Zonin USA is wholly owned by Casa Vinicola Zonin S.p.A. in Italy, a company of seven generations of wine makers with eleven estates located in the most prestigious wine growing areas in Italy.Hublot – A champion of innovation, Hublot revolutionized the watch industry with the introduction of the Big Bang, a multiple award winning timepiece created using a combination of precious metals with rubber. Since then, the Swiss brand has become universally known for the concept, "Art of Fusion." From in-house watch complications to world-class collaborations, Hublot is constantly evolving and looking to the future. PassTime – PassTime GPS has been in business for more than 25 years in the global transportation industry. Our wireless GPS products are available to auto dealers, auto finance companies, auto leasing companies, insurance companies and fleet transportation provider's in the USA, Canada, Europe, Latin America, Middle East and Asia Pacific. SONIC Tools – SONIC Tools is the North American subsidiary of Sonic Equipment, the world's market leader in premium hand tools and tool box systems for both commercial and consumer use. The company's mission is to elevate efficiency in the professional workshop through its premium hand tools and unique tool organization solutions. Sonic Tools' precision-crafted tools, toolboxes and wall systems are found in the world's most progressive automotive enterprises, and personal garages.
Technical Suppliers
Motegi Racing – through technical partnerships with leading professional racing teams, Motegi Racing Competition and High Performance Tuning wheels are designed and engineered for performance. Motegi Racing is a Wheel Pros brand. Wheel Pros products are sold worldwide in more than 20 countries on four continents and through a U.S. network of more than 10,000 active dealers. AEROAdvanced Paint Technology is the world's only ultra-durable, film-based paint appliqué. AERO is 50 percent lighter than traditional paint, has 100x superior durability, is strip-able, and has virtually zero carbon footprint. AERO the future of paint. Sabelt – leading manufacturer of seat belts and safety harnesses for production and racings cars, race suits, shoes and helmets, carbon seats for automobiles and child restraint systems worldwide. AllState – Allstate Roadside Services strives to provide the industry's best roadside experience for our partners, their customers and our service providers.
For Media Inquiries, please contact
Email: [email protected]
Picture Credit to Bob Chapman, Autosport Image