Ferrari in Pista – Fontana Track Day April 19, 2017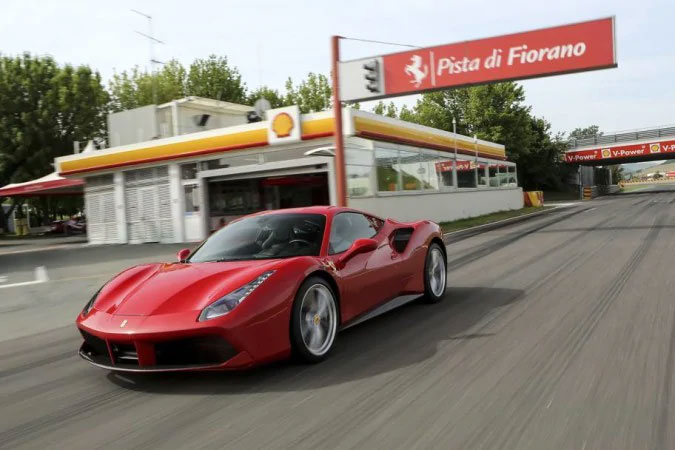 Open track day at Auto Club Speedway (Roval) in Fontana on Wednesday, April 19th 2017
Drive as much as you like | No group sessions
Mandatory Drivers Briefing at 8:30am
Track time 9am / 5pm
Lunch provided during one hour lunch break
Driving coaches available to provide assistance – open to all experience levels – mandatory for beginners
Hot-laps with Scuderia Corsa pro-drivers in a Ferrari Challenge car to top off your day at the track! (track conditions and timing permitting)
limited to 30 cars – first come first serve

limited to Ferraris only

Registration fee: $699 per car, including driver and co-driver (if any)
Helmets: all drivers must wear at least Snell 2005 helmets
Preliminary vehicle inspection: all registered cars must pass a preliminary complimentary vehicle inspection at one of our Official Ferrari Service locations.
Non-driving guest: $50 per guest.
Helmet Rental: available upon reservation for a $20 fee.
ADDITIONAL INFORMATION
Host of the Auto Club 400 (NASCAR) and the Indycar MAVTV500 every year, Auto Club Speedway sets the tone once you enter the facility. The ROVAL version of the track uses half of the speedway (oval), letting you use the 14° banking raced by the Indycar and Nascar cars, plus the in-field road course.
Length: 2.8 miles (4.5 km)
Turns: 21
Lap Record: 1'36.103 – Billy Johnson – FX 750
FINE PRINT
If you do not meet all of the following requirements you may not be allowed on track. We may not provide any refund or credit for the event:
If you drive a convertible, your car must have either aftermarket rollover protection or OEM/Factory rollover protection. Cars that are allowed include all cars with Pop-Up roll-bars and cars with substantial roll hoops. YOU WILL NOT BE ALLOWED ON TRACK if your car does not meet these requirements and YOU MAY NOT RECEIVE A REFUND. Please contact us if you wish to make sure your car is allowed.
You must have a Snell rated helmet (either Auto or Motorcycle) rated 2005 or newer. The preferred helmet is an SA rated helmet. If you do not have a helmet and cannot obtain or borrow one, the organizer may provide one for you (upon availability). Please reserve in advance to ensure availability.
You must bring a safety inspection approved form with you to the track. This is the form provided by our Ferrari Authorized Service Center. No safety inspection is provided at the track. It is your responsibility to bring a sound and safe car to the event. Please schedule your complimentary safety inspection prior to the event with proper notice.
TOW POINTS are highly recommended on the front and rear of your car. If your car has to be towed off track or out of deep sand and you do not have a very strong, well-mounted tow point, your car may be damaged. Whether you have a tow point or not, the organizer will not be responsible for any damage to your car that may occur during the towing process.
Performance driving/track events are dangerous. There are inherent risks involved whenever you drive your car at a high rate of speed. The organizer assumes no liability for any injury or damage that occurs to you, your car, or your guest(s).
Drivers must be 16 years or older
Children must be accompanied by an adult
No refund or credit given. Exceptions are not made for any reason, including technical / mechanical problems with your car. Events will be run rain or shine.